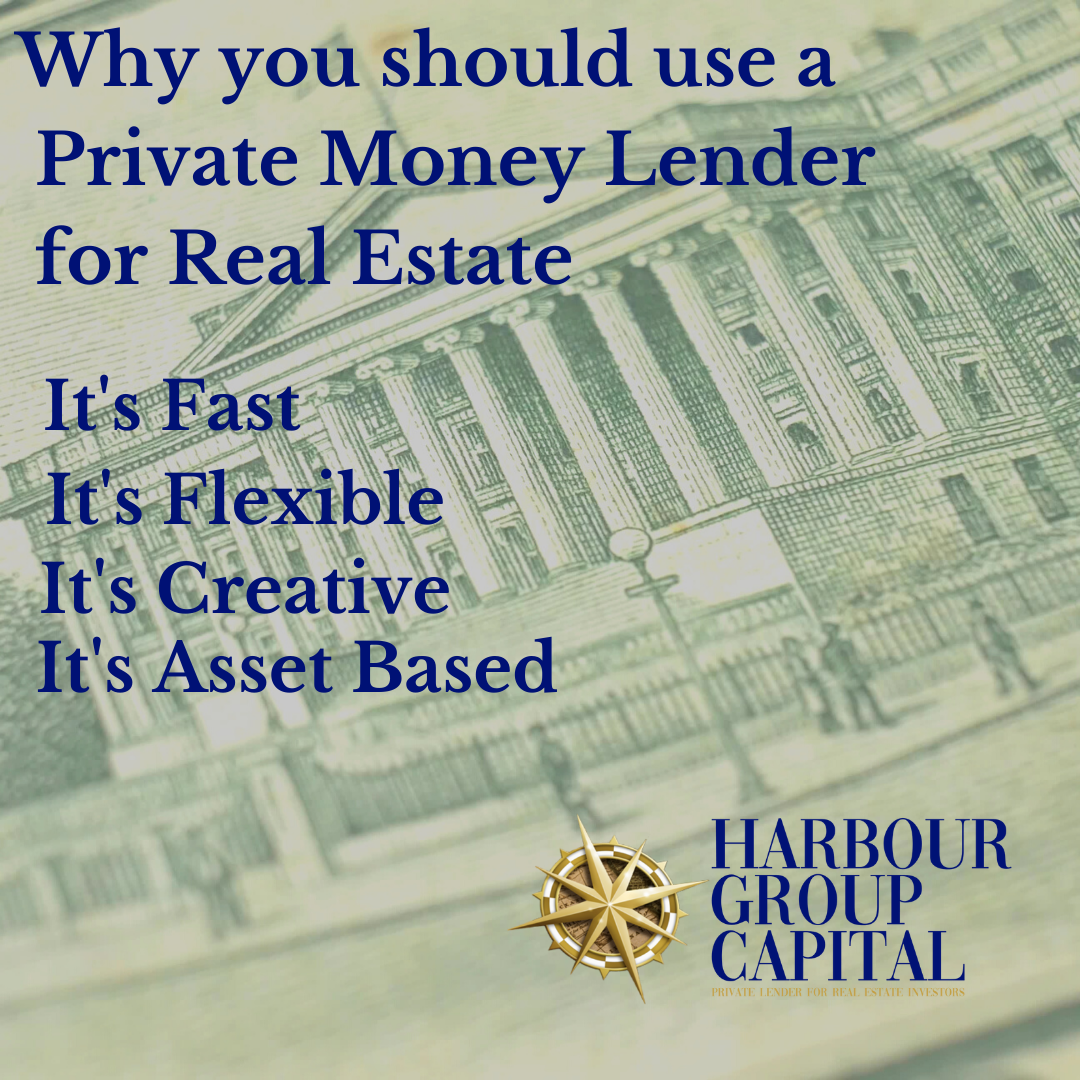 The Guide to Using Private Money Lenders for Real Estate
Investment property financing is a common obstacle among real estate investors. Very few investors are able to fund real estate deals with their own money. More often than not, investors will need alternative ways to obtain real estate investment financing. There are many ways of financing real estate investments. However, unwilling or unable to use commercial or hard-money lenders, many investors wonder how to invest in real estate with little money. One way is through using private money lenders for real estate.
Private money lenders for real estate are non-institutional lenders who provide short-term loans to investors for the purchase or renovation of an investment property. The loans are usually secured by a real estate asset. They operate differently from institutional banks. Private lenders usually offer upfront investment property financing with a particular payback period for investors who want to raise the value of a real estate property over a short period of time. The appeal of private money lenders for real estate is their ability to bring efficiency and speed to every transaction when it comes to finances.
When Should You Use Private Money Lenders for Real Estate?
Even though you can finance your real estate investments using different methods, there are scenarios where private mortgage lenders are the best option.
Here are examples of when it is best to use private money lenders:
When you need financing immediately
Being able to secure financing in a timely fashion is very important in real estate investing. You may find a good real estate deal but if you lack the money to fund it, it is just a waste of time. Investors looking to acquire lucrative real estate deals will often need working capital immediately for them to close the deal. Seeking private money lenders for real estate helps investors to capitalize on efficiency and speed when making a deal. Instead of having to wait for long periods with banks, real estate investors can swiftly move to secure deals that are time sensitive.
Private money lenders for real estate will demand more interest than conventional banks and lending institutions. However, the real estate investor benefits from the volume and efficiency as they can close more deals within a shorter period of time. As a real estate investor, this is a valuable asset to have.
PRO-TIP: Flipping homes is a time sensitive business. Depending on how fast you submit the loan package items, you can have your loan in a week or two. IT CAN TAKE TWO TO THREE MONTHS TO SECURE A LOAN WITH TRADITIONAL FINANCING! Begin your application today for a Harbour Group Capital Loan!
Asset based Lending
Private Money Lenders do not make the decision to lend strictly on your credit score. With Great Credit Scores and Significant Real Estate experience your rates will be lower, but primarily Private Lenders are interested in how much value they see in the property, since the property is the asset, that is backing the loan.
Another attractive thing about private money lenders for real estate investors is the ability to close cash deals. This enables real estate investors to make offers that they normally would not be able to make. This is significant because sellers are normally enticed more by cash offers. This approach is especially ideal for real estate investors looking to acquire distressed properties or bargain deals. You can win a bidding war and also avoid paying a higher price by increasing your down payment. Those who can afford to make an all-cash offer usually have an upper hand on a sale. All-cash offers are more likely to be accepted because many of the distressed sellers prefer not to deal with the burden of a bank. Moreover, sellers usually prefer cash offers because of the uncertainty of conventional mortgages. Therefore, the power of cash offers can help real estate investors to fuel more deals.
PRO-TIP: Ask Harbour Group Capital for a Letter of Intent on a property you are bidding on, You can instantly have the upper hand with a Pre-Approval for a certain amount.
When you have less than perfect credit
Having less than perfect credit is often considered as detrimental to your real estate investing career, especially when it comes to financing rental properties. However, private money lenders for real estate are suitable for those that have average credit scores. With private lenders, you can acquire funds without being subject to traditional credit requirements and guidelines.
Banks and credit unions generally avoid working with real estate investors with average credit or who have no proof of a steady income. Nevertheless, private money lenders for real estate will work with clients creatively and potentially give out loans that the average bank wouldn't. Real estate investors can sit down and discuss their options, including negotiating the amount and terms that make sense for them. However, this comes at a cost. Using private money lenders for residential real estate will involve a slightly higher interest rate than other loans. It is important to note that Private money lenders for real estate will have their own set of costs. Therefore, real estate investors should conduct their due diligence before selecting one.
Personal Service, Creative and Flexible
Private Lenders by definition are not CONVENTIONAL BIG BANKS, they become part of your team, another tool in your tool box to GROW YOUR BUSINESS! With Private Money Loans, you can get funding on great deals that banks would normally shun.  Fix and Flip Investment Properties that need repairs, make them unsuitable for most conventional banks, but perfect for Private Lending. Private Lenders do not have the same strictly enforced guidelines to follow for their loan applications, so they are more willing to help creatively structure loans that work for the project.
The Bottom Line
One powerful advantage that any real estate investor can have is their ability to secure capital. The best real estate investors not only have real estate skills and resources but also have access to working capital when needed. This is where real estate private lenders come in handy. Moreover, private money loans have relatively easy qualifying terms.
Investors who want to make their mark in the real estate market should consider using private money lenders for real estate. This is one of the real estate investment loans that they can use to take their real estate business to the next level. With the right approach, the use of private money lenders for real estate can help investors acquire more deals and boost their success rate in the real estate investing business.
Do you want to learn more about investment property financing methods and buying investment properties? Harbour Group Capital will help you out! To learn more about how we will help you make faster and smarter real estate investment decisions, click here.
Disclaimer:
 This is not tax or investment advice. It is your duty to consult your own CPA, Legal and Financial Advisors about your individual situation and applicable laws. No appreciation, positive cash flow, or return on investment can ever by guaranteed. All real estate investing entails risk which buyer assumes, it is your duty to do your own due diligence before buying any real estate. Portions of this article originally appeared on Mashvisor: The Guide to Using Private Money Lenders for Real Estate
Tags: #capitalinvestment, #commercialrealestate, #fixandflip, #fixandflips, #fixerupper, #hardmoney, #hardmoneylender, #hardmoneylending, #housing, #investment property, #privatelender, #privatelending, #realestateinvesting, #realestateinvestors, #rehabproperty, Real Estate Loans, Rental Property

Category: Harbour Group Capital News